Connect with your social network account
Moderators: Neotestament, Public Moderators
Gaming DH
Posts: 586
Joined: Thu Mar 22, 2007 10:24 pm
First Anime: Robotech
Location: Milford, MI.
Contact:
TOURNAMENT QUESTIONS
"What if I only want to play in the game room and enter tournaments?"
Purchasing the Youmacon Championship badge gets you into the Video Game Room; as well as, the Table Top Game Room.
"How do I register for a tournament?"
Tournament registration is at the convention only. It is located within the Renaissance Center, just outside of the Ontario Ballroom in front of video gaming.
"

Is there an entree fee for tournaments?

"
Yes. All tournaments have a $10 entree fee. Tournaments with multiple entrees will be $10 per team member.
"

Can I get a refund for a tournament if I wish to withdraw?

"
Yes. Refunds are accepted at the tournament sign-up location up to an hour before the tournament.
"

Can I use my platinum badge tickets to enter tournaments?

"
Yes.
"

Can I use my own controller for tournaments?

"
Yes. This is actually preferred. There will be no extra controllers on the "Focus Fire" stations.
"

Can I bring my own mouse / keyboard for the PC tournaments?

"
Yes, unless said accessories require driver installations.
"

What if I sign-up for a 2v2/4v4/5v5 tournament, but I don't have a team?

"
We will have a "Looking for Group" area near tournament sign up. You are responsible for finding a team. We will not accept single entrees or partial payment for team tournaments. 1 hour before said team tournaments we will ask for the single members to show up so that they may group together.
"What is the payout for tournaments?"
1st Place 60%, 2nd Place 30%, 3rd Place 10% of the pot after bonus is added.
GENERAL QUESTIONS
"

Can I bring my bag into the gameroom?

"
Yes. We request that when playing a game that you please set your bag on the floor.
"

Can I bring a drink into the gameroom?

"
Yes, but we request that the drinks are sealable.
"

Can I bring my own game into the gameroom?

"
No. Stations are predicted and organized for popularity and need. If there is a particular game you would want in the room, please suggest it. We do not provide single player games unless they have a quick cycle.
"

Can I take photos or video inside the gameroom?

"
Please do. We encourage this. Please do not step into staff only areas unless you ask first.
"

Are the arcade cabinets / mech warrior pods free-to-play?

"
Yes.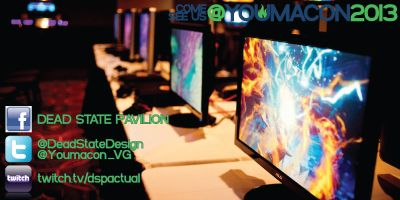 ---
Who is online
Users browsing this forum: No registered users and 0 guests